HP NC360T
From Mark Furneaux's Wiki
The HP NC360T is a dual-port gigabit NIC manufactured by Hewlett Packard. It runs the Intel 82571EB chipset and connects using PCI Express x4.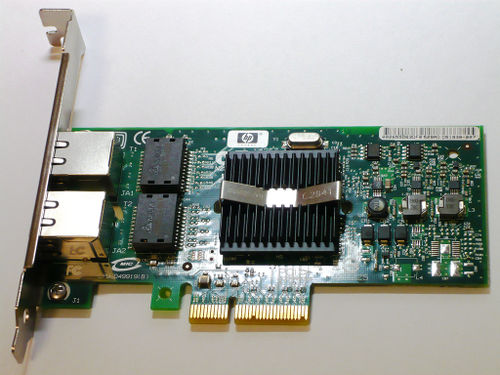 Overview
Link Types: 10/100/1000 base-T, both full and half duplex
Connection: PCIe x4*
Power Consumption: 4.25W
RX Buffer: 4096kB
TX Buffer: 4096kB
IEEE Standards Support: 802.3, 802.3u, 802.3x, 802.3ab, 802.3ad, 802.1p, 802.1Q
Supports TCP/IP Checksum and Segmentation Offloading
OS Support: Linux, Windows, BSD
*The card is wired for PCIe x4, however the Intel 82571EB chipset supports PCIe x1 as well. It is possible to cut off the excess pins on the PCIe connector to make the card fit in an x1 slot.
Bonding Support
Linux
The NC360T supports all types of link bonding using the ifenslave package under Linux.
Windows
HP does not offer support for the NC360T for systems running OSes other than Windows Server. However, despite being an HP product, the NC360T can use the Intel PRO/1000 PT adapter driver. This driver is continually updated by Intel and supports up to and including Windows 8.1. This driver contains all the necessary functionality to bond the NIC into 1 of 5 different configurations.
Managed Support
The NC360T runs 2 BIOSes, capable of running independently, which can be entered using Ctrl-S on POST. If the Windows driver is installed, the POST timeout can be changed from its default of 2 seconds to 0, 2, 3, or 5 seconds. The card contains its own PXE stack and each port can boot independently.
Config
Linux
The NC360T can be bonded like any other card with ifenslave. It does not use the maximum RX and TX buffers by default. To enable them to help avoid overruns, add the following 2 lines to /etc/network/interfaces for each port of the NIC:
auto eth0
iface eth0 inet manual
        bond-master bond0
        bond-primary eth0 eth1
        pre-up /sbin/ifconfig $IFACE mtu 9000


        post-up /sbin/ethtool -G $IFACE rx 4096


        post-up /sbin/ethtool -G $IFACE tx 4096

Windows
After installing the driver, the card can be managed by entering the device properties of either port. This can be done using the Network and Sharing Centre, or the Device Manager. Begin by creating a team with both cards as members. The type of the team is determined by the use case, but often "ALB load balancing" is preferred as it requires no switch support. Once the team is created, a new virtual NIC is created and used by the OS. The TX and RX buffer size can be forced to 4096kB for each port from the same settings panel.